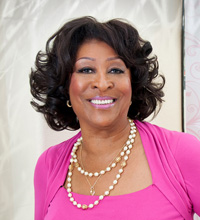 Karen Eubanks Jackson, Founder & CEO of Sisters Network® Inc. (SNI) is at the helm of the nation's only African American breast cancer survivorship organization that addresses the needs particular to African American women. Jackson is a eightteen year breast cancer survivor, who turned a personal challenge into an organization that provides standardized educational programs, support, empowerment and hope. During her personal fight to survive breast cancer, she recognized a lack of "sisterhood" in traditional organizations, a staggering breast cancer mortality rate for African American and limited culturally sensitive material. In 1994, Jackson founded Sisters Network® Inc. in order to ensure that African American women diagnosed with breast cancer receive comprehensive medical care and social support.
Jackson's primary motivation was to break through the silence and shame of breast cancer that immobilizes African American Women, restricts their ability to receive support services, interferes with early detection, and ultimately affects their survival rates. Due to Jackson's leadership, Sisters Network has experienced phenomenal growth resulting in over 42 survivor-run affiliate chapters, serving more than 3000 members and associate members nationwide. Sisters Network® Inc. has become the leading voice in the African American women's fight against breast cancer. In addition, Jackson developed several national outreach initiatives, including: The Gift for Life Block Walk® and the Pink Ribbon Awareness Project.
Jackson is a widely recognized minority breast health advocate, promoting legislation on the state and federal level. A highly sought after speaker and expert on the African American women's breast cancer experience, Jackson has traveled nationally and internationally, bringing her message to the U.S. Army's Comprehensive Breast Cancer Center in Germany, the National Congressional Black Caucus and the Centers for Disease Control (CDC), as well as other organizations. Jackson has been featured in numerous national newspapers, magazines, television, radio programs, and Internet media outlets, inclusive of the U.S. News & World Report, the Health Network, HBO special: Cancer: Evolution to Revolution, Essence, MAMM, Jet, and Web MD Health.
Jackson is a published co-author of several works, including "Breast Diseases: A Year Book Quarterly, Vol.14 No.22003; Breast Cancer in African American Women: The Evolution of Sisters Network, Inc.; A National African American Breast Cancer Survivor Advocate Organization with Lisa A. Newman, M.D., F.A.C.S. She is in several books "Breast Cancer Black Women", "My Mother's Breast and Celebrating Life." Jackson's achievements have been recognized by the State of Texas House of Representatives and corporate America, bestowing honors that include: TNT Dramatic Difference Award; Breast Cancer Hero by Lifetime TV, JC Penney "Champion of Change" The Jefferson Award-ABC and the Lance Armstrong "Voice of Survivorship" award.
Jackson serves on numerous local and national committees, including the Center for Research on Minority Health (CRMH), and a member of the American Society of Breast Disease. Formerly, Jackson served on committees, such as the National Breast Cancer Coalition (NBCC) Board of Directors, the Susan G. Komen Breast Cancer Foundation's African American National Advisory Committee and the American Cancer Society (ACS). She has earned certifications in the area of Breast Health Education from several organizations.
Jackson attended Morgan State University in Baltimore, Maryland, where she pursued a Bachelors degree in Sociology. She is surrounded by love from her husband of over twenty years, Kyle Scott Jackson, daughter, Caleen and granddaughters, Brianna and Alexis. Leading by example, Karen Eubanks Jackson continues to make a difference and lives by the Sisters Network® Inc. national creed: "In Unity there is Strength, In Strength there is Power, In Power there is Change."